It is hard to win the war for talent, but the biggest challenge is not always from the competition. Internal struggles around capital and talent, compensation programs that reward the wrong performance, or HR policies that are based on 'internal equity' and administrative ease can create substantial business risk. Executive compensation levels, executive incentive and wealth accumulation opportunities and performance/pay metrics need to be aligned with business strategy. Internal struggles around talent and rewards are the reason an independent, external review is critical.

The tale of an Energy Company that lost its way

In the pre-Enron days, the Energy Trading group had grown to more than 50% of the business, and there were numerous internal debates around the large incentives paid to the energy traders. Other lines of the business felt there were disproportionate rewards being paid to this one line of business, and no amount of 'market data' would change that belief.

An important part of the 'HRValuation' is a top line look at the return on Human Capital. HRValue measures the amount of operating profit generated for each dollar of compensation and benefits spent by business unit. It helps get around the 'opinions' of pay by the various business leaders and corporate functions. The two year view from the energy company is shown below: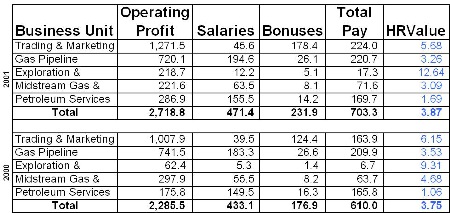 The whole conversation changed. From the above:

- The business leaders of the pipeline and midstream businesses stopped complaining about the large incentives in the energy-trading group, when they saw they were not as "efficient" generators of income. They continued complaining about the calculation of Operating Profit, which was a proper response. (The definition of operating profit did not include a risk-adjusted cost of capital in the equation. This, plus Mark-to-Market accounting created a situation where large incentives were paid out even though the business was not cash flow positive and the out-years not fully hedged.) They were correct about the mis-allocation of rewards, but for the wrong reasons. The HRValue metric focused the debate on what really mattered.

- After a significant acquisition, we moved in with selective retention arrangements in the Exploration group, concerned about key staff being at risk

- We validated the decision to divest the Petroleum Services group

- The inadequate measure of operating profit was replaced with an EVA measure, also the basis of executive incentives

Without the focus on returns through the HRValuation, these changes wouldn't have happened and discussions would have remained around 'opinions' of leaders. When the Enron collapse drove the company to the brink of bankruptcy, the focus on returns was part of the transformation.

Contact us to bring the power of uncompromising analysis to your organization.